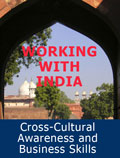 Working with India:
Cross-Cultural Awareness and Business Skills
An interactive cross-cultural training seminar for business professionals and technical specialists working with India – doing business in India, outsourcing to India, or interacting with Indian counterparts on a day-to-day basis. Highly recommended for managers and professionals working with offshore teams in India.
Topics range from general background on Indian culture to applied skills and success strategies for interacting, communicating and working effectively with Indian employees, team members, business partners, vendors, outsourcing partners, and professional counterparts.
Cross-cultural awareness training is combined with exercises providing hands-on problem solving, skills development and action planning for enhanced work-related interactions.
Sample Topics
Understanding contemporary India as a foundation for building sound working relationships
Indian core values and social culture
Communicating effectively with Indians
Work-related behaviors and interaction styles
Business etiquette and protocols
Management and teamwork style
Meeting style and expectations
Negotiation, selling and persuading
Best-practice strategies for working with Indian teams
Formats
One-day (8 hours) face-to-face training
Half-day (4 hours) face to face training